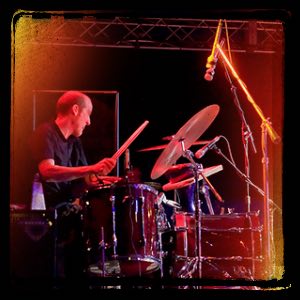 RECORD YOUR MUSIC
Michael will play drumset, percussion or keyboard instruments on your creative vision, always striving for originality and attention to detail.

PLAY YOUR MUSIC LIVE!
That's right: Michael is a musician for hire and maintains an active gigging schedule. He has given performances all over the world. All styles, any occasion.

COMPOSE MUSIC FOR YOUR CHOREOGRAPHY, MOVIE, PLAY, etc.
Michael employs a small, high quality home recording studio to quickly compose, record and mix a custom piece for your dance, video, cartoon, etc!

PRODUCE YOUR NEXT ALBUM
If you like the sound of Bunny's album or other records he has played on, consider working closely with him on your next record. Collaborate with Michael on any/all aspects of your music: lyrics, arrangements, orchestration and production.

ACCOMPANY YOUR DANCE
Michael has accompanied modern dance technique classes since 1995. He is the Accompanist Coordinator at the Dance Center of Columbia College and has also played classes, given performances and presented masterclasses at Lou Conte/Hubbard Street Dance, Hyde Park School of Ballet, The Academy of Movement and Music (in Oak Park), Gus Giordano Dance School, The Chicago Academy for the Arts, Western Michigan University (Kalamazoo, MI) and Marygrove College (Detroit, MI).

TEACH
Michael will work with any student motivated to take their creativity to the next level. Focuses include intermediate to advanced techniques/approaches to the drumset; composition; recording/production advice; improvisation; and dance accompaniment strategies for mixed instruments.